Get Accops HySecure with us, a zero trust-based gateway for the new era of working from anywhere at anytime. 
HySecure is a zero-trust-based application access gateway that will allow your workforce to log in safely and securely into the corporate network. They can then access private corporate applications that they need. This works anywhere at anytime. You do not need to change networks for remote workforces or onsite, and no need to configure endpoint devices for this product. You will not find an easier solutions to secure workforce access. 
One great detail about this is that you as a IT manager of Head of IT will be notified when there is a malicious login attempt which is based on geolocation details. HySecure will help in identification of suspicious activities too, by providing real-time geo location heat maps which showed failed login concentration anywhere on the map from continents to cities. 
Click here for the full table of silver, gold, and platinum -> Table 
HySecure Platinum will cover the following features: 
Integrated workspace access portal to access any private applications (web apps, client-server apps), virtual applications and virtual desktops, Cloud Apps, SaaS applications,
Accops Workspace client for Windows, macOS & Linux for accessing web apps, client-server apps, SaaS apps, virtual apps & desktops from a single user interface,
Secure Remote Access gateway with Accops SPAN technology based on application tunnels to create Zero trust based access gateway and using latest TLS 1.3/1.2 protocol with latest cipher support,
Secure Remote Access gateway with Accops Turbo technology to create a seamless network extension based on Datagram based tunnel and latest cipher support, 
Accops Workspace client for iOS & Android to access virtual apps & desktops and Microsoft RDP based connections inside Accops container,
Accops Workspace client for iOS & Android to access native mobile apps & email client, 
Reverse Proxy Gateway for client-less access to web applications,
Client-less access to Windows & Linux PC/VM using RDP using HTML5 supported browser (HyLite),
Seamless file transfer, endpoint security, USB redirection and other advanced features for Clientless portal using HTML5 browser,
Remote access to web application, SaaS apps,
Remote access to Internal applications; client-server, RDP, SSH, any other client-server applications, VDI solutions, 
Access to VOIP & other real time applications through UDP based tunnel for jitter free experience, 
Self-service for password and account lockout management,
Contextual login and app access based on device Identity, 
Data copy protection on endpoint machine by blocking screen shot, clipboard, screen recorder blocking,
Contextual MFA and step up authentication,
Contextual MFA based on device ID, user ID, application accessed, location, time,
Built-in load balancing of user traffic for virtual apps & desktops and other private applications: load balancing algo; resource utilization, application availability, round robin,
Accops Reporting Server,
Integration with Accops Reporting Server.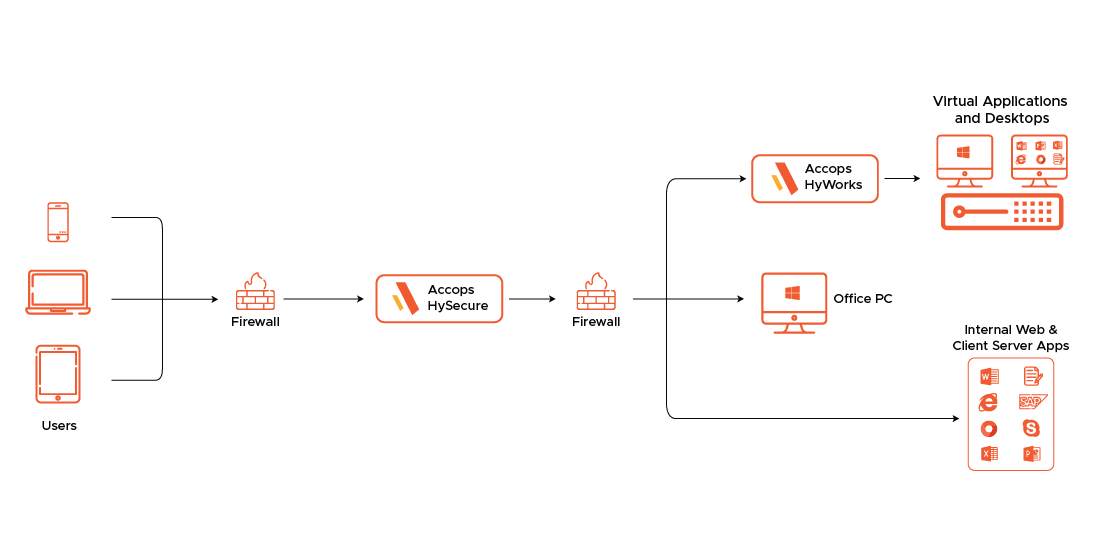 Make it easy for staff to get in, and hard for the hackers to penetrate your perimeters!
Solution Number: 22267-90-1
Solutions descriptions are Copyright © 2023,
Hanco, All Rights Reserved.
---